Overview
UCC believes that educational exchange opportunities enhance learning, build understanding amongst people of different cultures, and changes lives. Students enroll in the University of Cape Coast for a semester or two from partner and non-partner institutions across the globe.
Over the years, the University of Cape Coast has hosted a large number of students from institutions all across the world. Students from countries such as the USA, Germany, Sweden, Turkey, Kenya, Senegal, have participated in this programme.

The University

The University is a secular institution and it seeks to provide all students the opportunity to join a variety of sports and amalgamated clubs to enrich their social and extra-curricular experience. Among the many resources available to students of the University include access to Wi-Fi hotspots all over campus, an ultra-modern library complex with a capacity of stocking 750,000 volumes, a well-resourced hospital, an ICT Centre, expansive counselling system, sports facilities, banking services, restaurants, and many more.
Cape Coast

UCC is situated in the historical town of Cape Coast, the citadel of education in Ghana. Cape Coast ('Oguaa' in the local Fanti dialect) was the first capital of the former Gold Coast, now Ghana, until it was moved to Accra in 1877. It is the capital of the central region of Ghana and situated along the Atlantic Ocean. Cape Coast is the cradle of education in Ghana as it houses some of the oldest and best-performing schools in the country.

The Chiefs and people of Cape Coast celebrate Fetu Afahye, an annual festival, every first week of September, and it is one of the popular tourist attractions in the country too. With its rich history and monuments, Cape Coast is a tourist destination with numerous beaches and resorts.  It is an amazing experience to visit the Kakum National Rainforest with its famous Canopy Walkway and World Heritage sites such as Cape Coast and Elmina Slave Castles.
Download the study abroad application form to get started. Upon completion, send a scanned copy of the form along with other required documents, through your study abroad coordinator, to us via email and mail the original copies to:
The Dean,
Centre for International Education
University of Cape Coast
Cape Coast
Ghana, West Africa
| | |
| --- | --- |
| FIRST SEMESTER (FALL 2019) | SECOND SEMESTER (SPRING 2020) |
| 7th June, 2019 | 11th October, 2019 |
The dates for each semester can be found here
Download the arrival form to submit after receiving your admission documents, visa, and made your flight arrangements. Please communicate with the Centre on the expected dates for arrival before making flight arrangements.
Download the Bio-data form and submit via email once you are certain of travelling to Ghana to participate in the Exchange Programme. Submission of the form should be done, at least, two weeks to expected date of arrival.
Visit Guides on the webpage for guidelines on what to expect of your stay here.
Checkout this policy sheet to know what is expected of you, sign and submit.
Download, complete and submit the pre-arrival assessment form before your arrival.
You can check out available courses here. Note that courses from most schools/faculties are available except courses from the School of Medical Sciences and Faculty of Law 
Extramural Activities
Exchange students at the University of Cape Coast have the opportunity to engage in all sorts of extramural activities. Students may join any of the many amalgamated clubs and associations on campus. They may also choose to volunteer at places such as the hospital, crèche, kindergarten, orphanages, and others.
Study Abroad Coordinators can contact us for our factsheet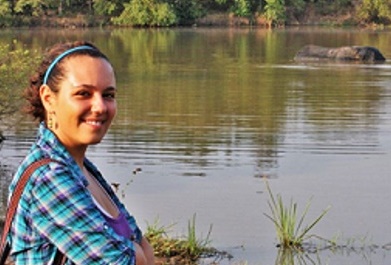 SHELBY WOODBY
(GVSU, USA)
I chose to study abroad in Cape Coast, Ghana, because I was looking to go someplace completely different from home. I wanted to learn as much about the culture as I could while I was there, including trying all the foods, exploring different places, shopping in the markets, and traveling with friends. I loved it. The five months I was in Ghana was challenging, but it was an incredible adventure that I wouldn't trade for any other. I made lifetime friends and carry my memories with me every day. It's made me who I am today, and it will continue to shape my thoughts, beliefs, and actions for the rest of my life.