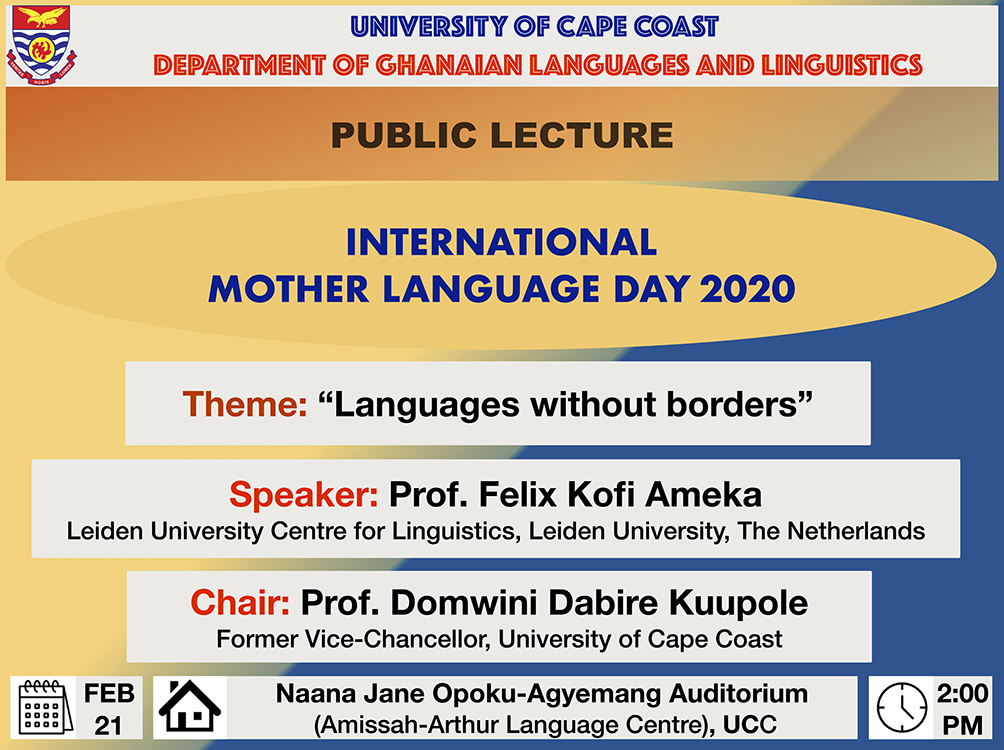 Speaker(s)
Speaker - Prof. Felix Kofi Ameka (Leiden University Centre for Linguistics, Leiden University, The Netherlands)
Chairman - Prof. Domwini Dabire Kuupole (Former Vice-Chancellor, University of Cape Coast)
The theme for the programme is "Languages Without Borders"
PROFILE OF PROF. FELIX KOFI AMEKA
Prof. Felix Ameka is a Senior University Lecturer at the Centre for Linguistics.
Prof. Ameka's primary research interests are the quest for the meaning of linguistic signs and exploring their use in social interaction. He is also interested in how and why languages vary and change over time and space, also in the reflexice relation between language, culture and cognition. He is concerned with questions of how cultural factors and cognitive processes as well as contact shape meanings and structures of languages. He works with primary data collected using ethnographic and experimental methods. His empirical specialisation is West African languages, mainly Kwa languages and other languages of wider communication, namely, Hausa and Fulfulde. His focus is on Gbe, i.e. Ewe, Gen Aja and Fon; Ghana-Togo-Mountain languages, especially Likpe; Guang and Akanic languages.
All are cordially invited.
Key Features / Side Attractions