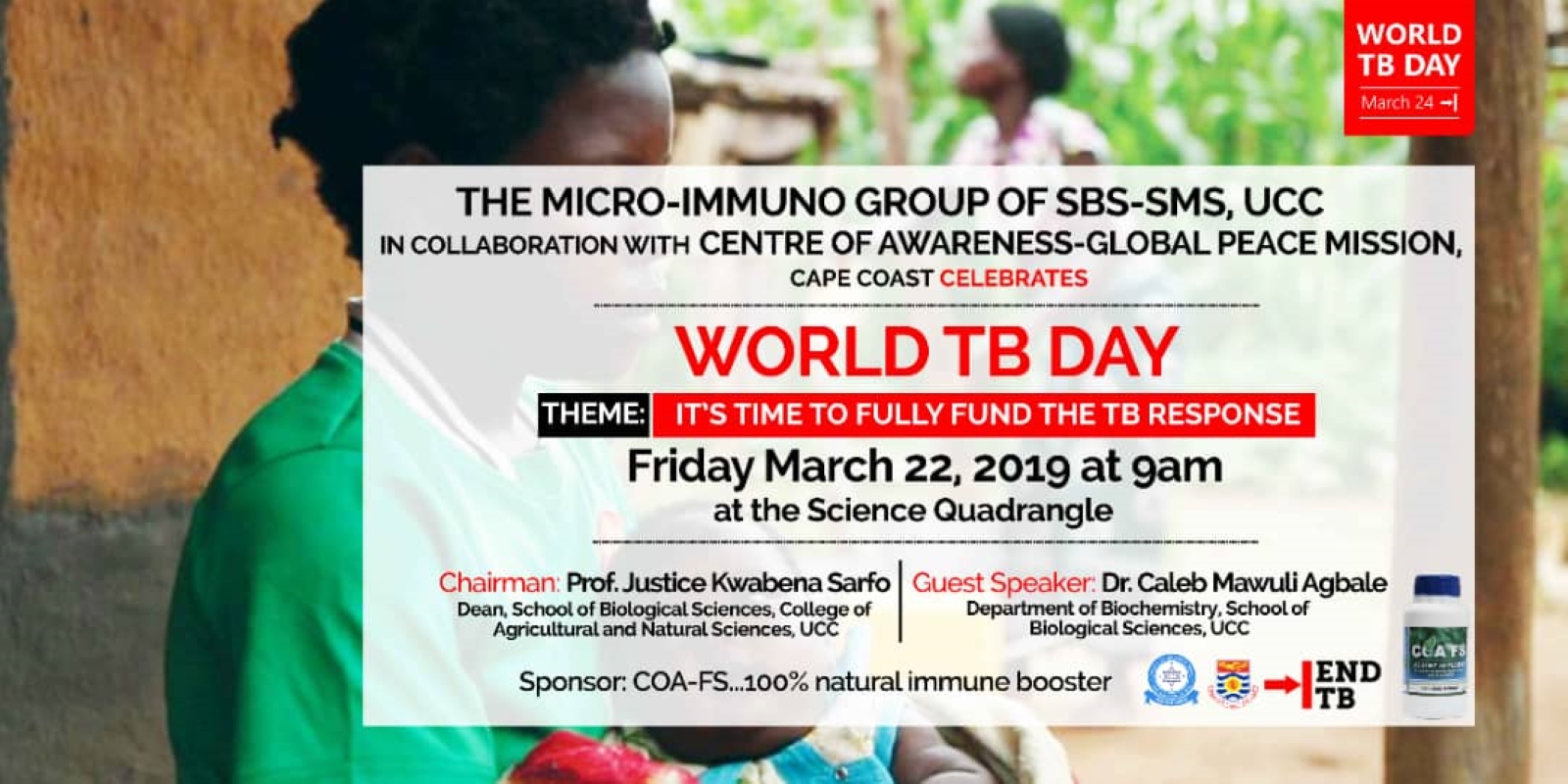 Speaker(s)
Chairman - Prof. Justice Kwabena Sarfo, Dean, School of Biological Sciences, UCC
Guest Speaker - Dr. Caleb Mawuli Agbale, Department of Biomchemistry, UCC
The World TB Day falls on 24th March every year.
This year, the Micro-Immuno Group, made up of Lecturers from the School of Biological and Medical Sciences, will mark the day on Friday, 22nd March, 2019.
THEME: It's time to fully fund the TB response
The event is sponsored by COA-FS, a 100% natural immune booster.
BACKGROUND
Each year, World Tuberculosis (TB) Day is commemorated on March 24 to raise public awareness about the devastating health, social and economic consequences of TB, and to step up efforts to end the global TB epidemic. The date marks the day in 1882 when Dr Robert Koch announced that he had discovered the bacterium that causes TB, which opened the way towards diagnosing and curing this disease.

TB remains the world's deadliest infectious killer. Each day, nearly 4500 people lose their lives to TB and close to 30,000 people fall ill with this preventable and curable disease. Global efforts to combat TB have saved an estimated 54 million lives since the year 2000 and reduced the TB mortality rate by 42%. To accelerate the TB response in countries to reach targets – Heads of State came together and made strong commitments to end TB at the first-ever UN High Level Meeting in September 2018.
Source: WHO, 2019
Key Features / Side Attractions
Display and sale of COA-FS products