The Faculty of Law of University of Cape Coast has held the 10th Jurists' Confab with a call on legal professionals to aim at excellence in their work.
The confab was on the theme "The Making of a Legal Luminary: The Lawyer, Judge and Legal Academic".
Speaking at the event, the Member of Parliament for Abuakwa South Constituency, Samuel Atta Akyea Esq. noted that legal practitioners needed to possess excellent spirit to stand tall among their contemporaries.
According to Mr. Akyea, "Excellence is the hallmark to distinction, greatness, perfection, pre-eminence, and superiority".
 "You need an excellent spirit to become a bigger luminary. If a man claims he takes his fuel from God, then naturally he will have an excellent disposition towards his work" he stressed.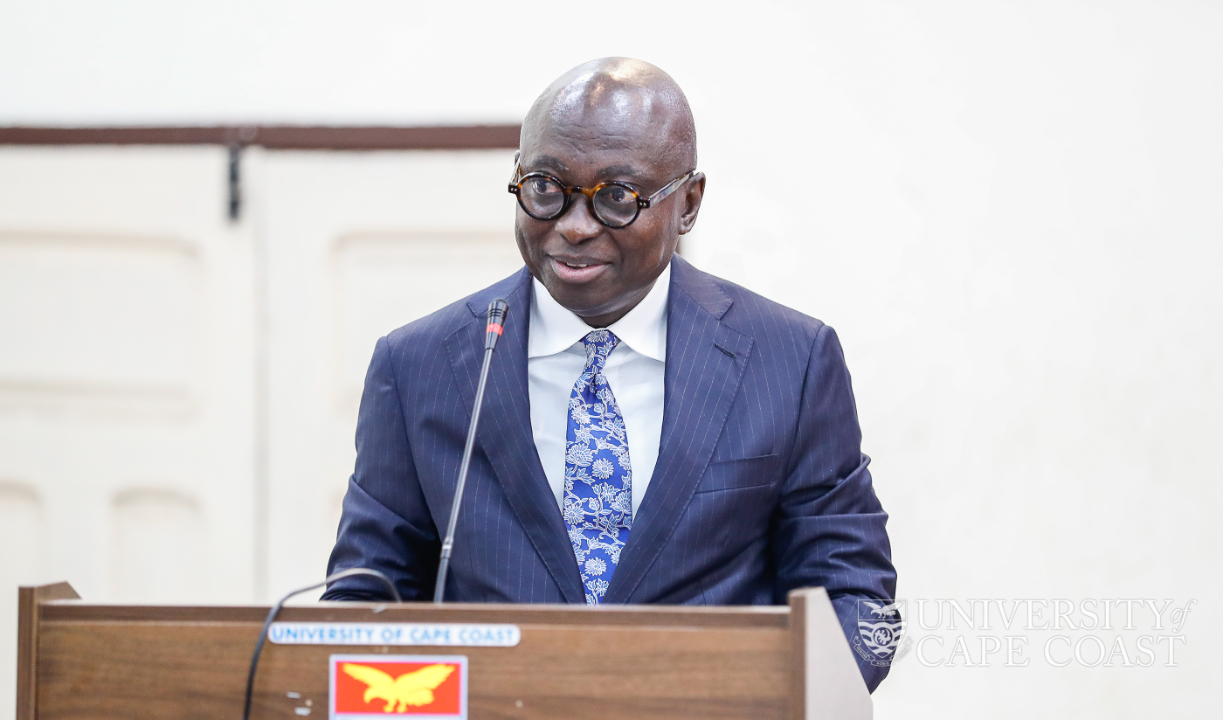 Member of Parliament for Abuakwa South Constituency, Samuel Atta Akyea Esq
The Member of Parliament for Abuakwa South entreated legal professionals, especially lawyers, to invest substantially in the profession and practice in their bid to attain excellence.
 "Your excellence is not like a designer suit you buy in a shop. You need to work hard to achieve it and maintain it. You need to build your own self into excellence. My respective submission is that you cannot use ordinary effort to secure extraordinary results and rewards" he said.
Mr. Akyea, who is also the Head, Zoe, Akyea and Co., Accra, urged legal luminaries to develop and appreciate team work in their quest to advance their career. 
"You will flourish and stand out strong if you believe in teamwork. You don't make a mistake, and nobody can improve your thinking or correct you. You cannot be filled unless you are empty. Legal luminary does not work alone. He has the oxygen of teamwork…We need each other. You need someone, and someone needs you" he added.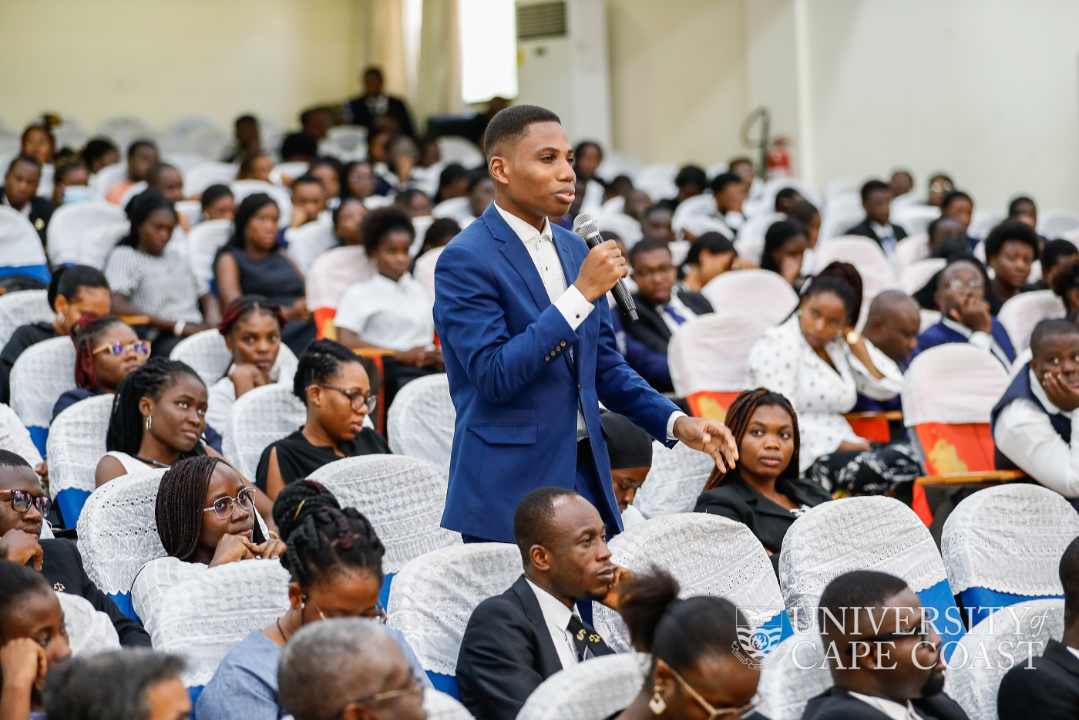 A student posing a question at the confab
Mr. Akyea advised up-and-coming legal professionals, particularly law students, to exude good character and temperament, as well as good human relations to facilitate their progression of becoming legal luminaries.
In his address at the programme, His Lordship Justice Dr. Ernest Owusu- Dapaa, who spoke on the topic, "True Meaning of a Legal Luminary" said a legal luminary must inspire others to be of high moral character and integrity.
To upcoming lawyers who desire to become judges, His Lordship Justice Dapaa entreated them to identify mentors who had distinguished themselves on the bench and work towards improving their legal research and writing.
His Lordship Dapaa advised legal professionals to pursue diverse legal experiences, engage in public speaking advocacy and develop a strong ethical foundation" he extolled.
He, however, cautioned them not to be misled by monetary gains but exhibit high moral character and integrity.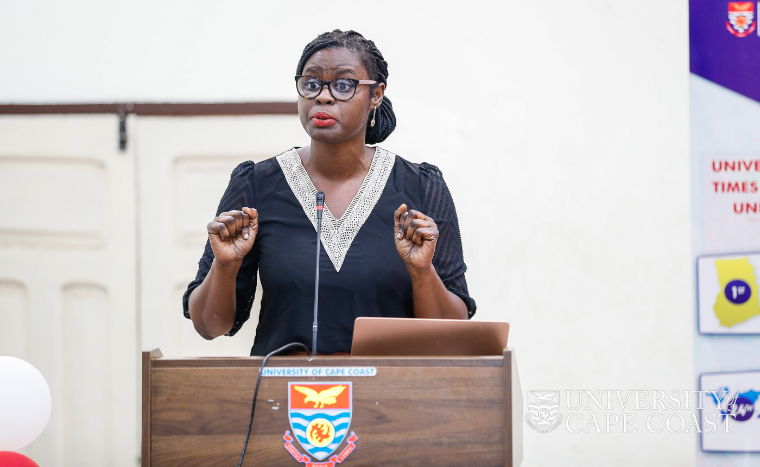 A fellow at the Law School of London School of Economics and Political Science, United Kingdom, Dr. Maame Mensa-Bonsu, Esq.
A fellow at the Law School of London School of Economics and Political Science, United Kingdom, Dr. Maame Mensa-Bonsu, Esq. in her presentation noted that academic institutions had a vital role to play in ensuring that the finest legal professionals were produced to support the dispensation of justice in the country.
She, therefore, appealed to academic institutions that train legal professionals to actively engage in intensive research, publications and the review of judgements to consolidate the gains achieved in Ghana's legal system.
Dr. Mensa-Bonsu implored academic institutions not to allow the lack of resources in their institutions to deter them from conducting legal academic research, producing fully-fledged lawyers. Instead, she challenged them to be committed to their work and strive to publish both locally and internationally.
The Dean of the Faculty of Law, Mrs. Julia Elysa Selman Ayetey, said the Faculty had contributed to legal education through its excellent teaching, national and international achievements of faculty and students, local internships and global partnerships.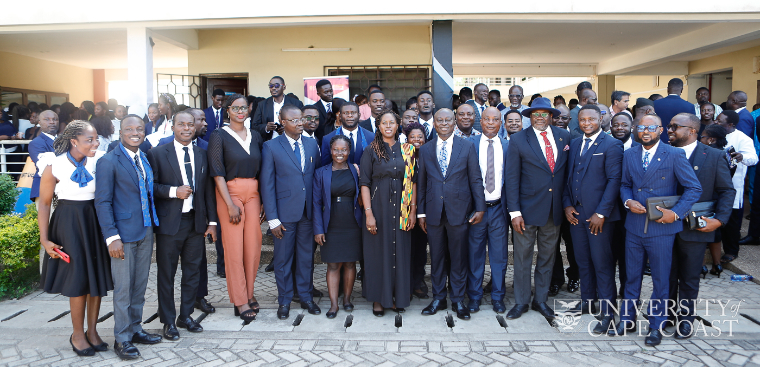 Some students of the Faculty of Law-UCC in a photo with dignitaries who graced the confab
"With the support of the University, donors, and alumni, the Faculty of Law will continue to contribute to make UCC the best it can be whilst embodying our motto: Integrity, Diligence and Service" she added.
Mrs. Ayetey extolled the University of Cape Coast as "the No.1 University in Ghana, the No.1 University in West Africa and the No. 4 University in Africa."
The Jurists' Confab is an annual gathering of the Bar, Bench, and Academia that the Faculty of Law of the University of Cape Coast hosts with the aim of fostering dialogue between the legal fraternity, government agencies, industry, students, and members of the public on current issues impacting the legal system, legal practice and law-related professions in Ghana.
Source: Documentation and Information Section-UCC