The Registrar's Department Welfare has visited two members who recently retired from the services of the University at their separate residences.
The two retired senior members are the immediate past Registrar, Mr. John Kofi Nyan and former Headmistress of the University Junior High School, Mrs. Kate Frimpong.
Purpose
Explaining the rationale for the visit at the residence of Mr. Nyan, the President of the Welfare group, Rev. Isaac Baafi Sarbeng, said, it was to find out how the former Registrar and his family were faring and to express the gratitude of members to him for his exemplary working relationship during his tenure as the Registrar.  "Even though you were our boss, you worked with us as our senior brother, you always consulted us on issues before decisions were taken", he said.
Rev. Baafi said the group was hopeful that, though he has retired from active service, he would continue to serve wherever he found himself now. "Yours is to serve humanity and we are sure that you will continue to do that for the good of humanity" he urged. "Our visit depicts the friendship that existed between you and your colleagues or staff in general,"he said.
Mr. John Kofi Nyan
Mr. Nyan in his response thanked the group for the love they had shown him in appreciation for his contribution to the University and the society at large. 
Mr. Nyan could not hide his joy and noted that "I'm so happy, so touched, so honoured. I can't even say how grateful we are for your visit". He urged members of the Welfare to continue to do their best to project the image of the University both far and near. He thanked the leadership of the Welfare for the good work and urged them to sustain the scheme. The group presented a portrait of former Registrar and other gifts to him.
Mrs. Kate Frimpong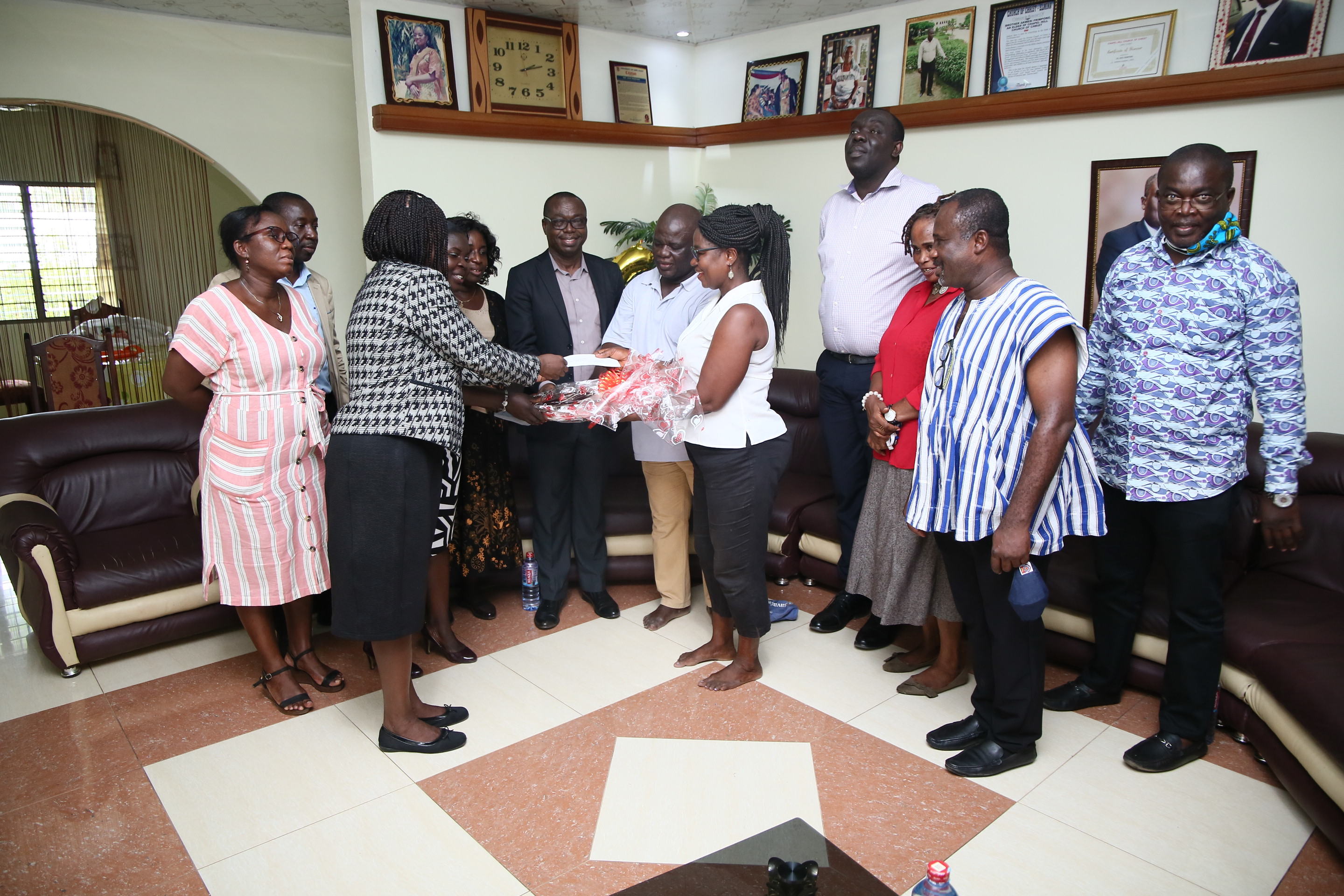 At the residence of Mrs. Kate, Rev. Sarbeng told her that the group was there to present a token of gift to her and also express their appreciation to her for working with them over the years.  He said the presentation should have taken place early but due to the COVID -19 pandemic, it was deemed right to visit her and present the gift and also find out how she and the family were doing. "So, this is following the usual practice of seeing -off our retiring colleagues each year", he noted. He assured her that, the doors of the University would always remain open to her so she could call on them whenever the need arose.
Mrs. Frimpong said she was surprised at the visit and thanked the team for coming to see her at her abode.