The Centre for Gender Research, Advocacy and Documentation (CEGRAD) has marked this year's "International Women's Day Celebration" with a symposium under the theme: "Think Equal, Build Smart, and Innovate for Change" on campus.
Speaking at the function, the Pro Vice-Chancellor, Prof. Dora Francisca Edu-Buandoh, said the International Women's Day (IWD) has been an important global event to celebrate annually. She stressed that "The IWD events help to create the awareness about gender inequality, push for the demands of women, while commemorating the achievements of women around the world".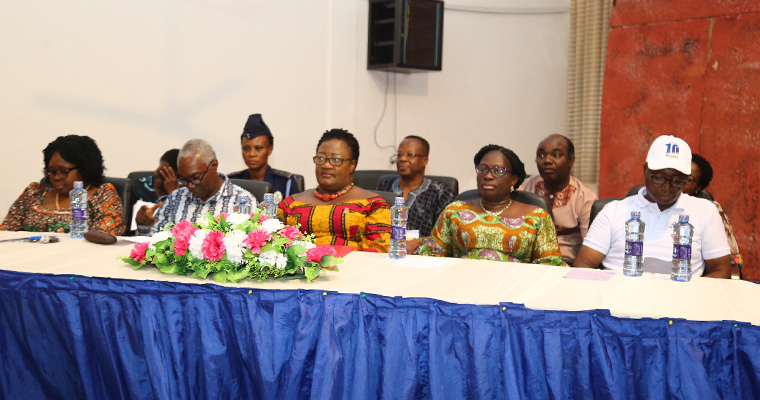 Safety and Security of Women                                   
Prof. Dora Edu-Buandoh noted that that the safety and security of women in the country was an issue because there had been reports of kidnapping of girls, spousal killing, torture, and abuse of women. "It is very important for women to think about their safety and security, be smart and find innovative ways to changing their own situations," she advised women.
On women empowerment, Prof. Edu-Buandoh said that it would be good to start with girls in order to socialise them into a world where they could a make change in their society, by through education, good health and innovative opportunities. She acknowledged all women, working mothers, and generation of women who worked hard to bring change in our society. She urged women to "be confident, walk boldly, be beautiful and a strong woman for change."  
Significance of IWD 
The Director, CEGRAD, Dr. Genevieve Adukpo, explained that the 'International Women's Day' was a global event set aside every year on the 8th of March, to celebrate and appreciate all women around the world. She added that CEGRAD–UCC, in partnership with other women within and outside campus joined forces to celebrate the day adding that "It is a way of appreciating the effort and the complete of our women in our societies and the world at large," Dr. Adukpo was hopeful that the 2019 International Women's Day would help women to move forward and commemorate their achievements.
Purpose of the Symposium
Stating the purpose of the gathering, the Coordinator, Advocacy and Outreach of CEGRAD, Dr. Georgina Yaa Oduro, noted  that CEGRAD  was focusing on two sub-themes-"Ensuring Women's Safety and Security" and "Drawing on the SDGs for Girls and Women's Empowerment and Transformative Change" for the 2019  celebration. She advised girls and women present to participate fully in the function and take advantage of the event to get informed. This she hoped would help create the awareness in both girls and women in order "to be safe, secure and empowered for a transformative change".
Women and Children are Affected by Gender Inequality
Making a presentation on "Safety and Security of Women" the Public Relations Officer of the Central Regional Police Command, DSP Irene Serwaah Opong, noted that gender inequality has been a topical issue because the most affected people in society were always women and children though the goal five of the Sustainable Development Goals clearly sought to tackle gender equality. She indicated "most of the victims of criminal abduction, sexual abuse, kidnapping, torture, child stealing, and killing were women and children while in most cases the perpetrators were men."
DSP Oppong indicated that there were appropriate institutions responsible for prosecuting perpetrators of girls and women abuse, including the Ghana Police Service, Department of Social Welfare' International/Local Non-Governmental Organisations, Judicial/ Panel System and Other Security Agencies. She advised women and girls to report suspicious and unusual behaviour by suspected individuals to the Police. On safety and security tips, she cautioned that girls and women should not give away phone numbers or personal information about themselves to other people. She advised against several attitudes and lifestyles which girls and women should avoid in order not to fall into the traps of suspected people who could cause harm to their lives.
Recognise Women in Gender Equality
Discussing "Women Empowerment against the SDGs and Transformative Change in the lives of the Ghanaian Woman", Prof. Akua O. Britwum, explained that recognising women in gender equality would end discrimination and eliminate violence. "This will ensure healthy lives and promote well-being for all at all ages," she said. She added that it would help address Sexually Transmitted Diseases, mortality and women health, choices about health and disease preventions.
On quality education, she advised that courses offered in schools should not be designated to a particular sex. "Women should be considered when planning for industries, infrastructural innovations and sustainable community," she noted. S In order to address the deficit in the SDGs, Prof. Britwum said planning was needed to be done to provide the right services and infrastructure to reflect the realities of gender equality. "Ultimately, it matters who we choose to lead and lead decisions about how we plan our nation," she concluded.
Various groups and stakeholders who were present gave solidarity messages.