The Chief Executive Officer(CEO) of the Chamber of Bulk Oil Distributors (CBOD), Ghana, Mr. Senyo Kwasi Hosi, has donated 11 sets of projectors valued at GH ¢30, 000 to the Faculty of Arts. 
The presentation of the projectors was done at a short ceremony in Accra. 
Presenting the items, Mr. Hosi noted that the donation was in response to a request by the Faculty when he was invited to deliver a lecture to staff and students. He explained that the world was evolving and every aspect of life was also going digital. He indicated that it was important for students to build on their presentation skills whilst lecturers also use technology to effectively enhance their medium of instruction. 
 Mr. Senyo Hosi (middle, front row) with the delegation from Faculty of Arts
Donation
Mr. Hosi noted that the donation was to support the 11 departments in the Faculty. "UCC is quite a very forward looking entity. I was very impressed by some of the strides you have made and I was really enlightened when I visited your campus some time ago," he indicated.
Support
The CEO of CBOD called on the corporate world to support universities in the country, adding that "The most important resource for the future of our country is not in hard resources but the people". He pointed out that the world had become very competitive and the youth were struggling to get decent jobs.  "The youth will continue to struggle if we don't boost the skills they have because they are not just competing among themselves but with all the human resources in the entire world," he stressed.  He indicated that since Africa was the next economic frontier, efforts must be made to ensure that the youth acquired the requisite skills to prove the continent's worth.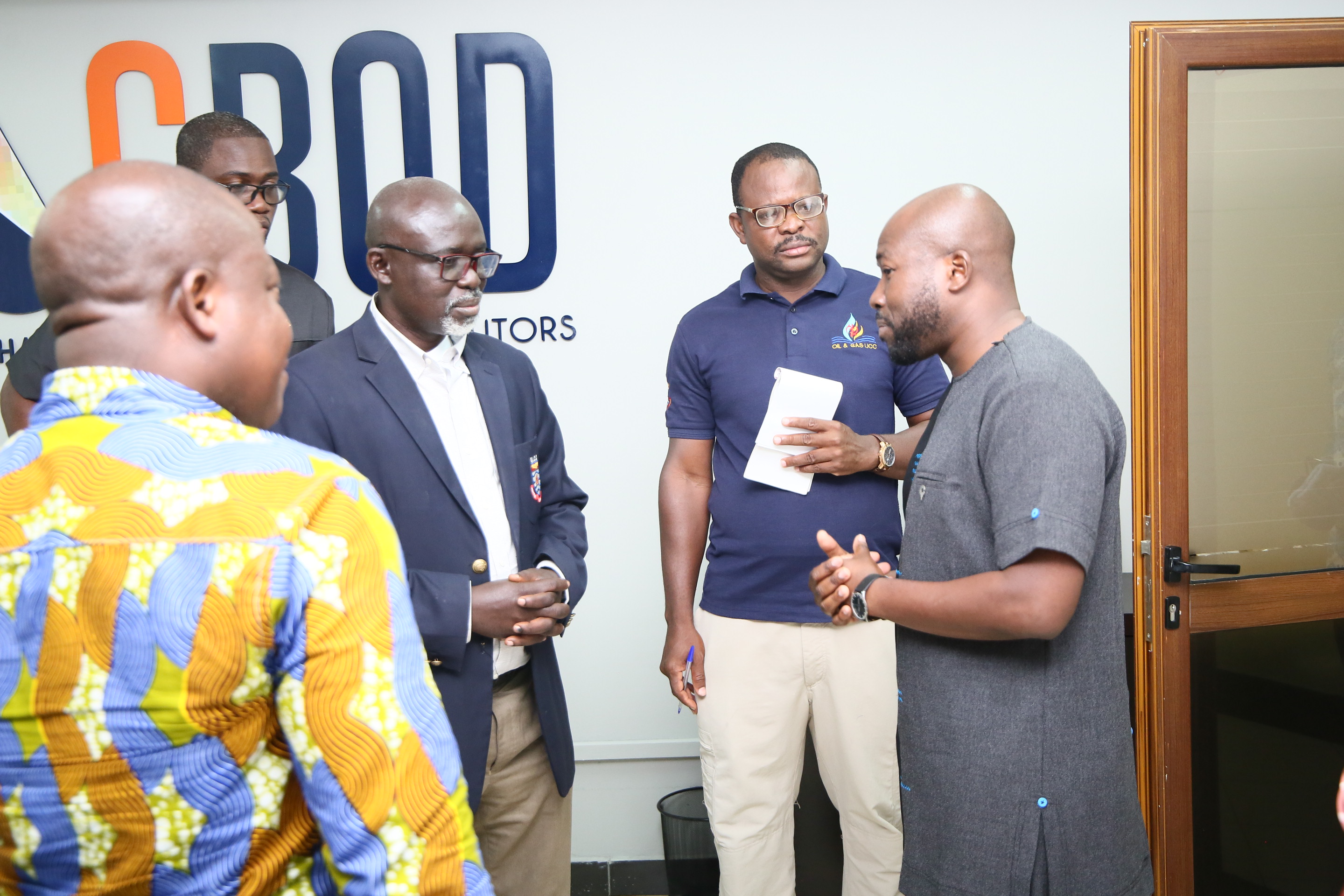 Mr. Senyo Hosi interacting with the Prof. Kwarteng and the delegation from UCC
Response
Receiving the projectors, the Dean of Faculty of Arts, Prof. Kwame Osei Kwarteng, expressed gratitude to Mr. Hosi for responding to their request. He said, "the fourth industrial revolution is the time to go digital in terms of education, hence the need for technological equipment such as projectors, computers, etc." He gave the assurance that the projectors would be put to good use to enhance teaching, learning, and research in the Faculty.
Other members of the delegation from Faculty of Arts were the Head of Department, Religion and Human Resource, Prof. Samuel Awuah-Nyamekye; Director, Centre for African and International Studies, Dr. Alex Jacques Wilson;   Faculty Officer, Mr. Robert Appiah, and an Assistant Lecturer at the Department of Communication Studies, Mr. Marcelinus Dery.